At the centre of the newly proclaimed Heritage Highway between Launceston and Hobart, Ross is a very special place. You can feel its magic as you cross its famous bridge and, untroubled by highway traffic stroll down streets lined with elms, past old sandstone buildings dating back to Ross's origins as one of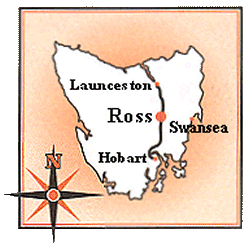 Tasmanian's early garrison towns.
Relax, explore and enjoy the ambience of a friendly village that has managed better than any other to remain unspoilt by commercialism. Ross is about one hour from Launceston and an hour and a half from Hobart.
Come and visit. Stay a while and look around. If you're a traveller with a tight schedule take a break and have a coffee with us.

www.heritagehighway.com.au